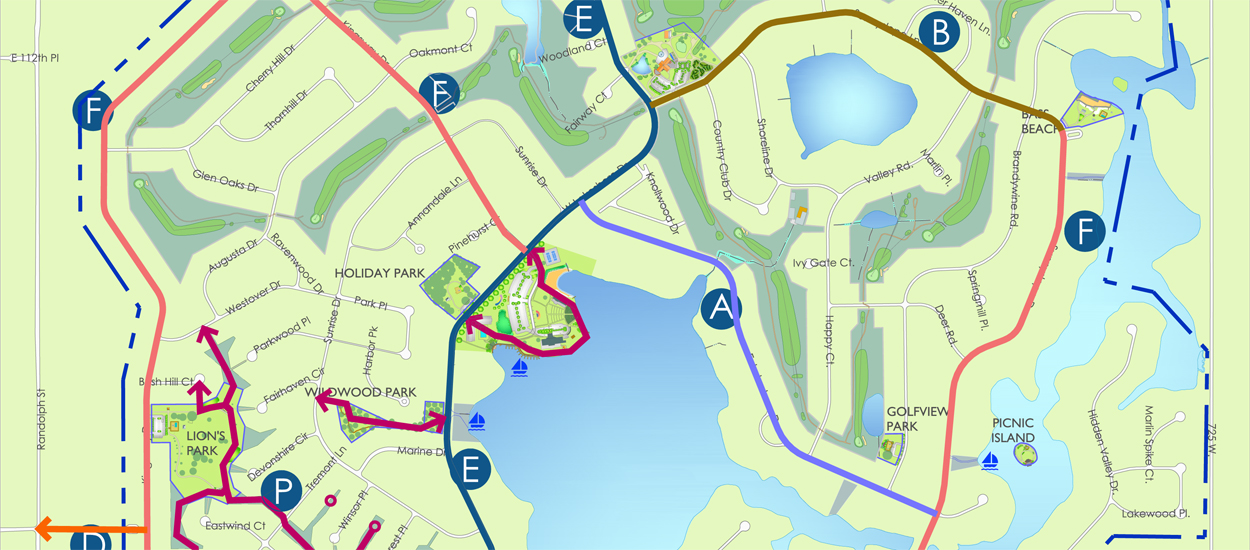 LAKES OF THE FOUR SEASONS MASTER PLAN
LAKES OF THE FOUR SEASONS, IN
The Lakes of the Four Seasons community spans over 1,600 acres and is home to over 7,000 residents. One of the most prominent features of the community is the abundance of open space, including an 18-hole championship golf course, 11 parks, and four lakes, two of which feature multiple boating access points. The Arsh Group was retained to develop a community-wide plan which ushers in a new vision for the neighborhood. The ultimate goal was to help the community position itself as a neighborhood that is attractive to residents and visitors of all ages.
As part of the visioning process, different elements for improvement were identified and analyzed. Several new boat launches and access points were proposed to enhance lake access. All parks were proposed to receive improvements ranging from minor enhancements to complete new master plans, such as a new master plan for Cleveland Park. Pedestrian connectivity was also a focus of the plan, with two pathways utilizing existing streets proposed for pedestrian movement, and Complete Street-style prototypes developed for this network. Combined with trails connecting various parks, nearly 9 miles of new pedestrian paths and bikeways were identified.
In addition to open space improvements, the plan also looked at enhancing the economic viability of the neighborhood. The two clubhouse facilities—the Seasons Lakehouse and 19th Hole Seasons Grill—were proposed to receive building expansions and improvements to enhance their functionality and service. New master plans were also developed for those sites to add new facilities and activities, as well as improve overall access. In addition, a recently acquired parcel to the southwest offered the opportunity to expand and develop. Proposed uses for this expansion area include a new mixed-use neighborhood, centered around a new park and open space area, new commercial uses along Randolph Street, and a new community center.
CLICK AN IMAGE BELOW TO OPEN A LARGER SLIDESHOW OF THE FEATURED IMAGES.