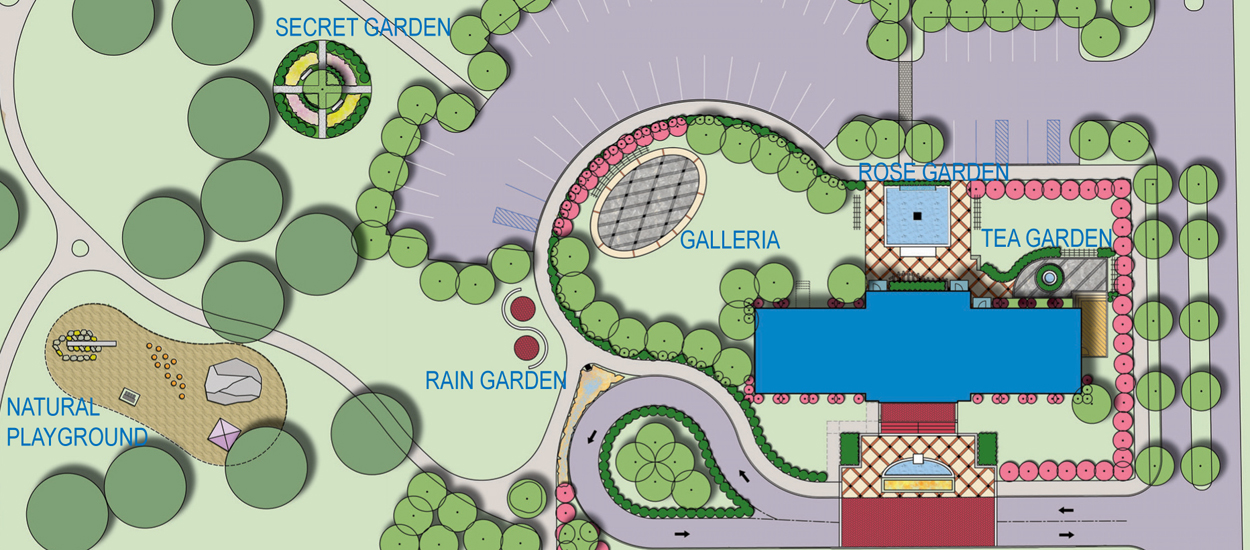 INDIANA BALLET THEATRE CAMPUS
CROWN POINT, IN
The Indiana Ballet Theatre, as part of its mission, is seeking to renovate the former Lake County Nurses Building as a permanent performance, education, and entertaining space for the company's programming. The Arsh Group was retained to develop a master plan for the building campus. The Master Plan proposes the development of the site as a family oriented community facility supporting multiple uses and activities. It will focus on active participation of children from different backgrounds, including those with disabilities or limitations. It will also focus on bringing older individuals to the facility for a variety of local activities during the daytime. As a whole, the plan consists of several distinct areas of activity. These areas include:
Front Entry Plaza—This elevated terrace creates an elegant arrival zone, with a water feature, a garden, and the Centre's signature sculpture in a natural setting. The front plaza also enlivens the street with public performance events on the front lawn.
Tea Garden—This garden is an intimate space for conversation and dining for visitors. The Tea Garden is surrounded by a lush flower garden providing a yearlong interest in color, smell, and texture. At the center of this garden is a metal gazebo with a water feature.
Galleria—The 1,511 square foot Galleria, with its marble oval stage, is the primary gathering place for outdoor events ranging from dance events, concerts, wedding receptions, and similar compatible uses.
Secret Garden—The secret garden provides a private relaxation area for visitors and participants in the Centre's programs.
Natural Playground—For the younger visitors, the natural playground will serve as an exciting play place. Constructed from organic materials that mimic the natural environment, this unique play area will provide challenging play opportunities that stimulate both the mind and body.
CLICK AN IMAGE BELOW TO OPEN A LARGER SLIDESHOW OF THE FEATURED IMAGES.